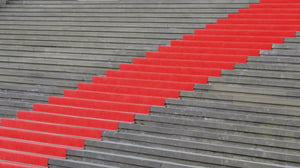 A new year is here and it's time to roll out the red carpet…for automation. Why all the continuous buzz and chatter about automation? Automation increases accuracy and speed in daily processes. Through automated conveyor, integrated, and palletizing systems, automation can take your operation to the next level.

It's all about maximizing, optimizing and simplifying your operations—along with the many benefits of increasing productivity, efficiency, and profitability…and automation will do just that and more.

Generally speaking, repetitive tasks and processes can be completed faster and more accurately. Through automation, employees/operators have more time and resources to focus—less on the manual, mundane tasks at hand and more on a strategy to fulfill other needs better utilizing their skill set. Ultimately, those automated processes increase safety in the workplace and reduce accidents caused by physical demands, and labor costs and human errors decrease.

Optimizing the vertical footprint/space of your warehouse to enhance its storage capacity will expand your warehouse functionality. And in utilizing the innovative product and solution technologies available, automated systems can be more productive and efficient in picking and throughput.

Data driven applications, to include WMS and WCS, help modernize automation as real-time activities can be analyzed and dissected, to further improve information flow in sorting, labeling, and inventory in product fulfillment. These software systems simplify processes by communicating and managing automated equipment, to improve its accuracy and throughput.

However your facility intends to grow, so does the need to keep your material handling equipment in line with your goals. Automation, appropriately applied, optimizes consistency and productivity, paving the way to a more seamless and productive system for your material handling. It is a key to improving your overall daily operations. And with the new year comes a new opportunity to implement change that will certainly produce results for your facility.

Author: Heather Connors, Director of Marketing, Conveyor Handling Company