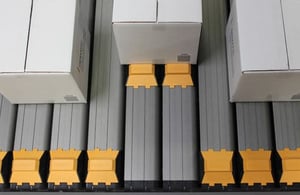 The Dematic FlexSort SL2 is the next generation sliding shoe sorter that incorporates many new design features for improved performance, ease of maintenance, and reduced cost of ownership. The key attribute is modular design. The FlexSort SL2 offers the choice of two drive options and two diverting methods. The parallel divert operation produces the highest sort rate in the industry at slower speeds (approx. 30% less machine speed). Angle diverting allows positive sortation at a reduced price point, but at a rate that matches other sliding shoe sorters.
Other significant features include: automatic variable speed control, advanced shoe design and the omission of end drive and oily chain loops on both sides of the sorter. Life cycle support features include: fast/easy slat removal design, no chain to be lubricated, side thrust wheels to ensure smooth slat flow, divert force on bearing (instead of pin), and an all new diverting mechanism designed for ultra-long life cycle. Furthermore, the divert module can be easily relocated to change divert points in the future.
Dematic FlexSort address your long-term ownership demands for:
Significantly reduced maintenance from fewer parts and innovative drive systems
Variable speed operation for increased efficiency
Lower energy consumption
Online diagnostics and visualization of sortation statistics
Quieter operation for an improved work environment and higher productivity
Maximum uptime and reliability
High sort rates at lower speeds, extending product life
Gentle sortation of a wide range of products
Author: Heather Connors, Conveyor Handling Company in collaboration with Dematic


Looking for more information on Dematic's FlexSort?