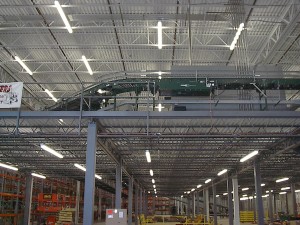 Mezzanines, also known as platforms or steel structures, are elevated platforms used for space optimization. This hi
gh quality, reliable structure ranges in size between 100 square feet to 500,000 square feet depending on the needs of each facility.
A mezzanine is an ideal investment for any company that needs more space due to the expansion of a product line, adding bigger equipment, or in need of more storage/office space in their current facility.
Ideal for use in distribution centers and other material handling or sorting operations

Better utilize the space within your current facility
Cost effective way to optimize the limited space within the structure of an existing building
Enlarge your facility without expanding outside of your current building footprint
There are four main types of mezzanines available: free standing mezzanines, mezzanines connected to building columns, rack supported mezzanines, and shelving support mezzanines. You can choose which type of mezzanine is ideal for your facility based on a variety of aspects including cost, space availability, and potential use. Although mezzanines are designed to fit high ceiling facilities, supporting a high load capacity and offering wide open space, they do not need to be an indoor structure; they can also be used outdoors to connect

buildings. They are able to support conveyor systems, piping needed for manufacturing, and industrial operations.
There are many benefits to investing in a mezzanine. They can provide elevated access between machinery, equipment, and buildings; or support air handling equipment for clean rooms or be used as fan decks. Mezzanines are ideal for storing items that do not fit well in racks or for creating more flexible options for racks, shelving or for storing full-pallets. These storage solutions open more space below for production. You can also use the mezzanine to store small parts or items such as those that are not used on a regular basis, like slow moving items or archived files. Mezzanines can support the piping necessary for manufacturing purposes, specific types of equipment, or support a conveyor system in merging and sortation.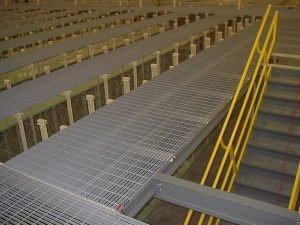 Free standing mezzanines provide tax advantages as they are considered capital equipment that depreciates in a shorter timeframe than a building. There are smaller scale mezzanines available as well. The structure itself can be very complex or simple depending on your needs. Our knowledgeable and experienced staff is available to assist you in designing a mezzanine to meet the needs of your facility. Features, including various decking options, may be added that are unique to your building or industry. Accessories including handrails, stairs, ladders, gates, and crossovers are also available.