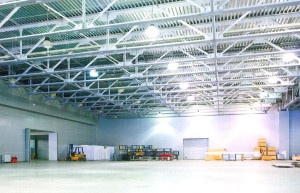 According to the U.S. Department of Energy, lighting represents 40-60% of the average commercial building's electric bill. In today's work environment, plant operations are in need of proper lighting 24/7. With the proper light levels and a brighter, cleaner white light, safety is improved in the business workplace.
LED lights use 50%-90% less electricity than traditional light sources and last more than 100,000 hours. This technology replaces outdated metal halide, fluorescent, and HID lighting; permanently reducing the energy usage. Due to the long life span of the LED light, maintenance costs are significantly reduced. Outside of the tangible benefits, tax incentives and government rebates are available. With all of these benefits, it's no wonder why all businesses don't use LED lighting. And then again, maybe now they should.
Businesses are embracing the 'go green' advantages of (industrial) LED Lighting to improve their light levels in their distribution and warehouse facilities. Berry Plastics, a leading global manufacturer of plastic consumer packaging, recently completed a plant-wide lighting upgrade, replacing nearly all of the interior lights in the building. This included lights in their production area, high-bay warehouse, maintenance shop, cafeteria, labs, restrooms and offices. Maintenance manager John McConnell said that "since the (EcoZohm) LED upgrade, we have received so many comments from clients about how great the lighting looks. It is really impressive. The LED lighting is so much cleaner looking than the T8 fluorescent fixtures were."
Author: Heather Connors, Conveyor Handling Company
Interested in converting to industrial LED lighting?