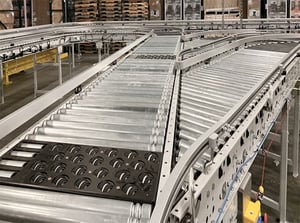 Where do you begin? The most common requirement for any conveyor system is to transport products from point A to point B. Selecting the right system can be a daunting task, but worth the time and investment as the right material handling system can drastically improve productivity and efficiency in your warehouse or distribution facility, providing the best return on your investment.
The adage, 'one size fits all' does not hold true when it comes to your conveyor system. It's about understanding your operation to develop and fulfill your plan. Several factors need to be considered when analyzing conveyor solutions. They include cost, maintenance, and throughputs.
Will the conveyor be standalone or part of an integrated turnkey solution?
What type of packing will be conveyed (size, weight)?
What type of budget do you have?
Once your purpose for the conveyor system has been established, the rest should fall into place. Your conveying solution should address your current warehouse and distribution needs, but also take into consideration your future growth and potential. Building scalability into your conveyor solution will avoid the need for significant rework as your warehouse and distribution needs change. Finding the right integration partner to assist you with your conveyor system is vital to warranting smooth and seamless operations.
Author: Heather Connors, Conveyor Handling Company
Looking to update or replace your current conveyor system?