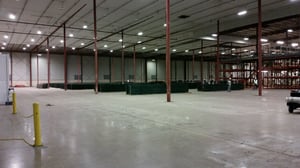 Operations managers face many challenges in their day-to-day operations. Of which, some of the most challenging is utilizing the space and confines of a warehouse distribution facility to maximize the productivity and efficiency. To do so, existing material handling turnkey systems likely require on a continual basis updates, enhancements, or even replacements to keep up with the latest industry emerging applications and technologies.
Space—a relatively simple term in nature, but quite complex in the material handling industry. For it is this space, or lack thereof, that helps shape the distribution footprint, allowing operation managers to effectively run their distribution center or warehouse more smoothly. An evaluation of 'space' in an attempt to integrate and streamline the overall production process will help maximize productivity and efficiency. Furthermore, an implementation of the latest technologies and industry solutions on those existing turnkey systems, whether an enhancement, upgrade, or even a replacement, utilizing the horizontal and vertical floor space, will maximize product throughput, thereby creating the ultimate harmony for operations managers. What space challenges do you face in your warehouse or distribution center?
Author: Heather Connors, Director of Marketing, Conveyor Handling Company
Looking to maximize your warehouse space?