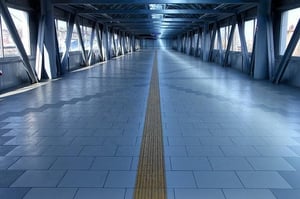 The footprint of your warehouse is the vertical and horizontal space you have to work with to perform the necessary daily operations. The space utilized, shapes your warehouse—optimizing your storage capacity, maximizing efficiency, productivity, profitability, and allowing plant and operation managers to effectively run a facility effortlessly. Space is vital to the success of any operational warehouse in order to adequately deliver product to the end user. It also is the foundation in providing viable solutions to meet your warehouse needs.
4 Best Practices to Maximizing Your Footprint:
Set Attainable Expectations: It's important to determine what you expect to get out of your warehouse; how much space do you want allotted for storage? What product specs, including size, dimensions, speed, weight, and quantities) need to be taken into account?

Spatial Ratio: An evaluation of the overall warehouse size (horizontal and vertical) is critical in determining what material handling solutions are available to perform daily operations within the warehouse facility

Reach Out: A Material Handling Integrator understands your operation and has the industry knowledge to identify ways that will enhance the warehouse design. They can provide cost effective options to see that your material handling challenges are met.

Implement: Lastly, utilizing your existing or new conveyor equipment, implement these industry solutions and technologies to enhance product throughput and order fulfillment.
Author: Heather Connors, Director of Marketing, Conveyor Handling Company
Looking to improve your material handling?