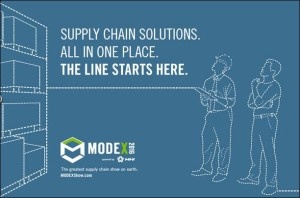 There are many trade shows out there, but nothing quite like MODEX —a trade show unlike any other; the supply chain and manufacturing industry's largest expo. This year, MODEX will be held at Atlanta's Georgia World Congress Center, April 4th-7th.
With over 850 leading manufacturing and supply chain providers from the industry, MODEX, 'the greatest supply chain show on earth,' offers attendees hands-on access to the latest manufacturing and supply chain equipment and technologies.
Proven to be an extremely effective meeting space to discuss applications and solutions with industry experts on-site, MODEX delivers to you supply chain solutions all in one place with the latest efficiency enhancing products, solutions and systems. The show brings together the world's leading experts to discuss the latest cutting edge innovations.
So if you happen to be in the Atlanta, Georgia area next week, come see what's possible for your manufacturing and supply chain business. You just might find the solution to your most difficult material handling challenge.
Author: Heather Connors, Director of Marketing, Conveyor Handling Company
Sign up to our monthly newsletter highlighting products in the material handling industry