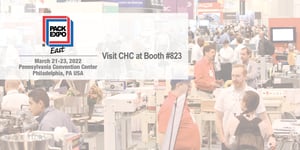 Pack Expo is the #1 packaging and processing event for East Coast consumer packaged goods (CPG) companies. This year's Pack Expo will be held at the Pennsylvania Convention Center in Philadelphia, Pennsylvania from March 21-23, 2022.
You may be asking, what's in it for me? Why attend? Pack Expo East welcomes predominantly East Coast companies from nearly all vertical industries.

With over 400 leading manufacturing and supply chain providers from the industry, Pack Expo offers you the best and most efficient way to explore the latest advances in packaging technology. And you'll get a closer look at how various innovative material handling solutions and equipment might fit into your facility. With a wide range of state-of-the-art packaging and processing solutions, Pack Expo offers you the opportunity to discuss specific applications and solutions with industry experts.
Laura Thompson, Vice President, Trade Shows, PMMI (the global resource for the packaging and processing industry) said "Technology and machinery solutions have changed a lot in the two years since PACK EXPO East 2020. Our return to Philadelphia is the ideal chance for busy professionals to bring entire project teams by car or train, to see the latest solutions in person."
Whether you're looking into automation, e-commerce, or sustainability initiatives, you'll find many solutions all in one place with the latest efficiency enhancing products, solutions and systems. Here, you can hone in on the perfect solution to your packaging and processing challenge.

So, if you happen to be in the Philadelphia, Pennsylvania area the week of March 21st, make your plans to attend— come see what's possible for your packaging, processing and supply chain business. You just might find the right solution to your material handling challenge.
Author: Heather Connors, Director of Marketing, Conveyor Handling Company
Schedule a meeting with CHC at Pack Expo East 2022