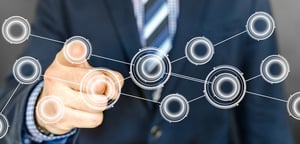 Automated storage and retrieval systems, also known as AS/RS, have increasingly advanced over the years adding immeasurable value to the material handling solution in the distribution arena—a no brainer solution. These automated storage systems, designed to store and retrieve items, rapidly improve accuracy, throughput capabilities and speed up warehouse processes.

Most AS/RS solutions will fall into two baskets—the mini load and the unit load. A mini load generally handles small, lightweight loads in order fulfillment, best utilized in warehouses that host a large quantity of SKUs, but don't have the floor space needed to provide ease of picking. The mini load handles trays, totes, and cartons and maximizes the vertical space in the distribution center. Whereas, a unit load handles large loads consisting of cases or full pallets. These loads handle bulkier, heavier items and can weigh up to several thousands of pounds. To round out automated storage and retrieval systems, other solutions include vertical and horizontal carousels and VLM's (vertical lift modules). These space saving, secure systems accurately, efficiently and rapidly handle high throughput applications for high-volume order picking.

In any of the above automated storage solutions, benefits and advantages far outweigh the costs over time, maximizing floor space and streamlining warehouse processes.

Since manual labor is being replaced by automation, labor costs are reduced. Workplace ergonomics are overwhelmingly improved as a result of eliminating the time it takes to perform such activities (walking, lifting, bending, etc.) to retrieve product. And overall safety risks among employees is minimized as the element of physical labor and many stressors are alleviated when implementing these solutions.

Time savings cannot be overlooked as a key advantage to any automated storage solution. It allows for a faster and more accurate picking and retrieving process, thereby increasing productivity and delivery to the operator and thereafter—out the door and to the end user. Saving time, saves money, while ultimately maximizing performance.

Integrating AS/RS solutions delivers real-time inventory control, seamlessly organized, tracking a clear picture into the daily operations management in picking, packing and shipping of product thus maximizing performance while saving time and money. And it is through this integration and implementation of AS/RS that your warehouse distribution will be set up for success for years to come.

So, which no brainer automated storage solution is best for your material handling facility?
Author: Heather Connors, Director of Marketing, Conveyor Handling Company
Learn more about the right automated storage solution for your facility