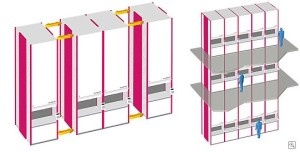 Everything can change with a Vertical Lift Module (VLM)—the ideal storage and picking solution designed to improve the overall picking process. VLM's give warehouses a high-tech system for storage organization and material handling, saving time, storage space and costs and enabling a much more efficient workflow.
While many material handling warehouses and distribution centers face daily operational challenges, storage space and efficiency do not need to fall on that list. There are many benefits to having a VLM. With its' ergonomic vertical design, over 60% more floor space is utilized, maximizing storage capacity on a minimal footprint. VLM's also deliver materials at a worktable height, minimizing physical strain—avoiding bending and climbing, on employees at work.
As with any successful warehouse or distribution center, there is an equally successful manager in place committed to throughput and accuracy. These VLM's will increase productivity using an automatic retrieval system, enabling employees to quickly locate parts or products without the need to walk up and down the aisles, saving time and picking accuracy.
Benefits of a VLM:
Condense storage space requirements by up to 60% or more
Reduce inventory retrieval time – a significant time savings
All material is stored in a safe, secure environment protected from dust and unauthorized access, reducing contamination and pilferage
All items are delivered to the operator at a perfect ergonomic height. No bending or reaching to retrieve items, reducing the likelihood of job-related injuries
What operational challenges do you face in your distribution center or warehouse? Is a VLM right for you?
Author: Heather Connors, Director of Marketing, Conveyor Handling Company
Interested in simplifying your material handling?