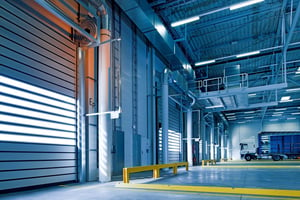 In the material handling industry, space and footprint are extremely valuable commodities. Getting more out of your warehouse by maximizing those commodities are essential to the flow and success of your daily operations.

There is no shortage of material handling options for product, equipment, and throughput needs, to make the most of your current space. But how those options are implemented just may be the key to your warehouse success. Look beyond the fundamental footprint when exploring unique ways to incorporate solutions that assist with space constraints; and consider the following material handling solutions.

What can you do to get the most out of your existing space and how can you achieve maximum storage capacity?

Racking offers a wide range of options tailored to your product, equipment and warehouse needs. It runs the gamut in product handling, providing direct access and high-density storage. However, racking does not have to be limited to use on the floor. Look beyond the floor space, at the entire footprint of your facility. Consider any unused space and how racking would benefit. For example, utilizing and implementing rack above dock doors for empty pallets and corrugate will open up the floor and allow for more viable storage on the ground level.

Free standing mezzanines, single or multi-level, are ideal for storage equipment to free up valuable space on the warehouse floor. They provide options, allowing you to utilize and maximize the vertical space that already exists in your distribution facility. Shifting some foot traffic off the floor and in the air, onto other levels, can also increase safety, allowing more room to move and get around within the facility. By maximizing storage capacity and building upward to store product or equipment, you are in essence increasing usable space to your advantage.

As you look to grow your existing facility, all material handling product solutions are on the table. And in getting more out of your warehouse, these two creative, flexible solutions will expand upon any and all storage capabilities to procure and secure success in your material handling...from the ground floor up.
Author: Heather Connors, Director of Marketing, Conveyor Handling Company
Are you getting the most out of your warehouse?