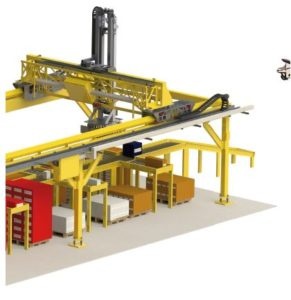 Looking for a new and innovative way to transport your pallet goods? Let's discuss robotic palletizing systems—solutions in place to sort and palletize different products simultaneously. The Gantry Robot, a 'pick and place application', provides an efficient way of palletizing multiple pallets that carry large payloads in order to improve rate efficiency and profitability. Robotic Arms offer a more highly reliable way to palletize. They can handle a variety of products to include: boxes, bundles, cases, bags, trays, reels, and drums. With their versatility, robotic palletizing machines can be repurposed with different end-of-arm tooling to maximize your operation. In addition, these palletizers can stack in various patterns and sizes, while increasing the safety of the work environment and load accuracy.
These innovative solutions, used to improve the end of line operations, robotic palletizers will improve accuracy and increase production, saving labor costs and reducing product damage resulting from human error. Calling Mr. Robot and implementing a robotic palletizing system is an ideal solution for transporting goods on pallets in your distribution.
Author: Heather Connors, Conveyor Handling Company
Looking to improve your material handling?