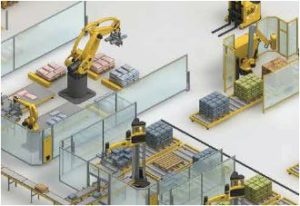 It's no surprise that robotics have recently drawn a great amount of attention and raised the eyebrows of so many. Robotics, the latest buzz word, in the material handling industry is changing warehouse processes beyond measure, transforming the shape of your operation. Your warehouse footprint and operational processes in place will determine whether or not robotics will suit your facility needs. However, robotics may or may not be the solution for increasing efficiency and productivity in your facility.
Ask yourself these questions: Can robotics play an integral part in your facility? If so, what changes must occur to successfully implement a robotic material handling solution and how will this implementation effect your daily operations?
Choosing a material handling solution involves defining your facility's objectives and goals. Furthermore, working with a systems integrator in defining the best solution to implement will help meet those daily challenges. Used in a variety of applications to handle or palletize product, robotics will improve accuracy with reliable precision. With implementation, AGV's and robotics can be utilized to efficiently and significantly improve productivity, thereby improving your operations. Even in the most challenging of environments, robotics, operating 24/7, can increase output and efficiency, saving costs in labor and personnel.
Take the time to reflect upon all of your options in automation and robotics to determine whether or not they can play a vital role in your daily operation.
Author: Heather Connors, Director of Marketing, Conveyor Handling Company
Looking to implement robotics in your facility?