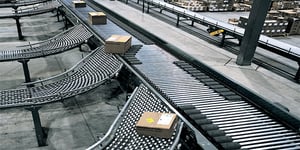 Conveyors—the work horse of the warehouse. With the holidays just around the corner, much of your warehouse will see its heaviest traffic during the next couple of months. Fulfilling orders while preventing any downtime during this peak season should be first and foremost. Stay on track with these simple conveyor maintenance tips to get your warehouse facility through the holiday season:
Cleaning your conveyor is key to its longevity. Regular, routine cleanings should be performed on the belts and surrounding parts to keep the debris at a minimum. This will keep your conveyor system running smoothly while maintaining the life of the conveyor.
Stocking spare parts is an efficient way to minimize any downtime. It's inevitable—conveyor breakdowns cannot be prevented entirely; however, stocking the appropriate recommended spare parts will decrease any lost time and get you up and running as quickly as possible.
Scheduling and performing regular preventative maintenance is the best thing that you can do to help maintain your conveyor equipment. All components are inspected and evaluated to avoid potential issues with the efficiency and production in order fulfillment.
Reduce the added stress brought on by the holidays and make your season bright by maintaining your conveyor equipment throughout the season and all year round.
Author: Heather Connors, Director of Marketing, Conveyor Handling Company
Learn more about our Maintenance Program