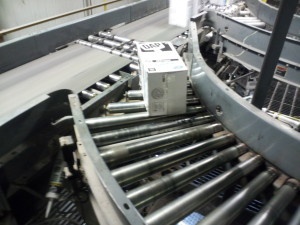 As the thanksgiving season approaches, so does the start of the busy holiday shopping season. And with that comes a whole lot of expectations for warehouse and distribution facilities in getting holiday purchases out the door to the consumer on time. And what many shoppers don't see is the 'behind-the-scenes' of your warehouse and distribution facility in making this whole process seamless in successfully delivering the products and/or stocking the shelves.
The maintenance of your conveyor equipment is a crucial part of getting you through the holiday season unscathed. So as you prepare for the holidays, here are a few maintenance tips to keep your operations running smoothly:
Adjust: To avoid excess wear and tear, check your belt and chain tension, sprocket alignment, and set screws on all moving parts.
Clean: Proper and routine cleaning of your conveyor system, conveyor rollers and belts is critical to the long life of your conveyor system.
Lubricate: Proper lubrication is key; a well-oiled machine will minimize downtime and maintenance repair costs.
Stock: As a rule of thumb, it's always a good idea to have stock of your critical spare parts (motors, belts, rollers, etc.) in the event of a breakdown. By doing so, when trouble arises, you are more likely to have minimal downtime by having those spares in stock.
One final checklist to review to ensure the health of your conveyor equipment: Walk around, look and observe, listen to the sounds. Doing so on a daily basis will help pick up on anything unusual with your system and hopefully catch any potential complications before they become bigger problems.
Is your conveyor equipment ready for holiday season? What challenges do you face as we enter this busy time of year?
Author: Heather Connors, Director of Marketing, Conveyor Handling Company
Does your conveyor system need service?