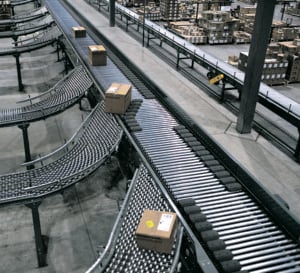 There is much to be said about conveyors with respect to storing, moving, sorting and distributing materials. Designed to maintain warehouse efficiency and increase productivity, a conveyor system is one of the key elements to your warehouse operations. With the many types, styles, and sizes, conveyor systems are the most widely utilized machine in the supply chain industry.
Consider the following when evaluating your warehouse operation needs to implement a turnkey conveyor system:
Process: How will product be moved? What aspects of the process are most important when moving product?
Design & Throughput: What space within the facility will be allocated? Will that space change?
Budget: How much is allotted to spending? What does the ROI look like?
Long Term Usage: Think beyond the immediate needs—what are the company's growth plans?
Whether implementing a simple belt conveyor or an entire turnkey conveyor system, utilizing all loading and unloading areas will ensure that your conveyor system is performing at its peak. Furthermore, the functionality of a well-designed conveyor system will guarantee that product continues to move and do so in the right direction.
Author: Heather Connors, Director of Marketing, Conveyor Handling Company
Looking to improve your material handling?