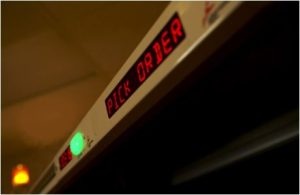 There is much to consider when picking product using industry technology. What product is being handled? How is product handled? And how quickly does product move? Growing warehouse operations are faced with having increased product flow resulting from higher customer demands—thereby creating many challenges and processes to overcome in the order fulfillment operation.
Picking is the process of pulling from inventory to fulfill an order. Implementing a picking technology will reduce operating expenses and labor costs in the long run while maximizing productivity and accuracy in order fulfillment.
Radio Frequency (RF) Scanning Devices is the most widely used picking technology. These devices tend to be the most flexible and least costly, capable of capturing product and customer data quickly.
Voice Directed Picking, also known as pick-to-voice, has the highest rate of accuracy, allowing operators to communicate orally with a software system to receive and confirm picking tasks in real time.
Pick to Light technology, generally the more expensive option of the three, uses LED displays to guide workers to the exact item and quantity needed to complete the order.
Fulfillment centers are looking for a technology that enables them to ship more items faster in shorter periods of time. They are looking for improved productivity and increased efficiency. They are looking for the most return with the least resistance.
Author: Heather Connors, Conveyor Handling Company
Looking to improve your material handling?