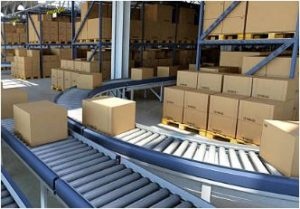 It's time to get packing. Filling customer orders involves picking product, packing product and shipping said product out the door…all essential processes when working in a distribution center. And the quicker it's done the more satisfied the customer.
The material handling industry is packed with solutions to increase efficiency and accuracy, simplifying order fulfillment to meet your demands. When evaluating a solution for your facility, you must consider the weight, size, product type and velocity. Establishing requirements and a set criteria in the picking process will help narrow down the solution that's right for you.
A Pick-to-Light solution guides operators to a specific stock location using light displays. Put-to-Light solutions use light displays as well, to which operators are directed where to put a product and how much of the product to stock. Put-to-Light solutions are used primarily for order fulfillment and consolidation. Pick-to-Voice systems utilize voice instruction, received by the employee and used to help optimize the order picking process. Enhanced goods-to-person picking solutions for high rate throughput demands may require a fully automated solution. In this scenario, product is presented to the operator via a modular pick station. Additionally, autonomous, standalone picking/packing systems have the innovative capabilities to provide a far superior solution to the order fulfillment process.
So as we look ahead to the fall season, which solution will have your warehouse facility moving at the speed of summer?
Author: Heather Connors, Director of Marketing, Conveyor Handling Company, Inc.
Looking to improve your material handling