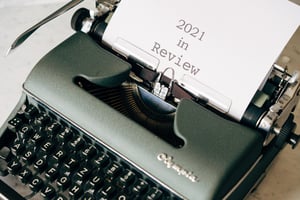 Another year is coming to a close and with that comes the annual review of your systems and operations. How is your facility closing out the year? With all of the supply chain disruptions and employment vacancies, it's no wonder that we all look to a brighter, better 2022—a new year that brings change, innovations, and vast improvements across the board.
So, what can you do to improve operations, now that you are in the driver's seat? Check out the (4) P's to help you get there.
Planning: It's all about the details. As the old proverb goes…"a vision without a plan is just a dream. A plan without a vision is just drudgery. But a vision with a plan can change the world." It's time to change your facility distribution and how you move product. Working with a systems integrator can give you the opportunity to work with an array of manufacturers in material handling giving you many options for the best material handling solutions to fit your facility based on your specific needs and challenges.
People: A plan is nothing without the implementation and consideration of the people who will put that plan in motion. Yes, we are all suffering the brunt of the labor market with vacancies across the country, so it's up to you to set a plan in motion while considering the people who will help to implement and operate the plan moving forward. This is an opportunity for you to innovate and automate—and allow the 'people' to oversee operations using various automated technologies, reducing the need to hire an additional workforce to handle the manual labor. Enter our next 'P' in product solutions and equipment below.
Product (Solutions & Equipment): What's a plan without the proper selection of material handling product solutions and equipment successfully implemented. There are a lot of material handling products and technologies on the market—and many have particular features exclusive all their own. Several options and variations of equipment made to handle the movement of your specific product needs. And these solutions/equipment are designed to increase productivity and profit by improving material handling efficiency. Ultimately, with the right solution utilized comes the right balance of employees to equipment, possibly relieving the labor employment worries. The end goal—more accuracy, efficiency and productivity.
Performance: Lastly, but possibly one of the most important elements is performance. In the end, this should be the focus of your attention. Now that you've taken and implemented your plan, will the performance provide the ROI to outweigh the ongoing supply chain disruptions and labor pains that still exist today? And how will you continue to improve daily operations to maximize efficiency and productivity within your facility distribution.
Author: Heather Connors, Director of Marketing, Conveyor Handling Company
Are you ready to get a jumpstart to your operations in 2022?