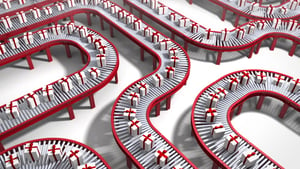 The hustle and bustle of the holiday season is in full swing and distribution is front and center—the star of the show. By now, your daily warehouse operations are on full display for all to see, advertently and possibly inadvertently. The scanning, sorting, picking, packing, conveying, and palletizing systems at work are on autopilot while the supply chain attempts to meet a demand this holiday season that is far greater than its supply. This of course is due to the many ongoing issues with manufacturers and logistics throughout the world resulting from the COVID-19 pandemic.
And while there may be a litany of excuses that can result in stops or delays in production, there are just as many steps that can be taken to get you through the holidays without issue.
Cue the Visuals

: Regularly check all wires, cables, and controls to ensure that all switches and push buttons operate properly

Sounding the Alarm

: Routinely check all equipment for any unusual sounds that may signal a problem or safety concern

Spare Me

: Be sure to keep a stock of any critical spares such as belts, rollers or motors to minimize any downtime when there is a breakdown
Remember that maintaining your equipment all year round is a critical step in material handling. The processes set in place are the ebb and flow to your facility. And any choices in between that you make to those day-to-day operations to ensure its success will have a direct effect on any holiday/year end achievements.
Author: Heather Connors, Director of Marketing, Conveyor Handling Company
Does your material handling need service or maintenance?