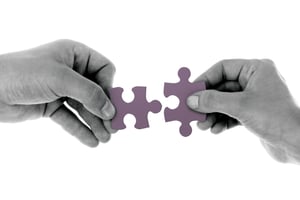 Piecing it all together and utilizing the right solutions for the right fit is all about a collaboration in design and layout to implement a cohesive integrated system. The design in and of itself is the stepping stone to an efficient, cost effective and productive material handling solution for your warehouse facility. However, prior to such a design, an assessment of both immediate and long term material handling needs is necessary. Furthermore, a clear understanding of your operation is a given in evaluating the success of the design.
Developing a strategy in transforming your distribution center is just as important as the various material handling technologies available to include conveyor equipment, automation, and controls. Conveyor equipment can generally add meat and basic substance to the design of the system; whereas, automation intensifies and expands your system exponentially, taking it to the next level by simplifying processes within your warehouse facility. Utilizing controls and other software systems in your distribution connects each element with one another, thereby assisting in shaping your overall distribution center. Each of these elements when put together can be vital to the transformation of your warehouse facility.
So, whatever your needs might be, designing your optimal warehouse space and maximizing the footprint requires detailed attention to each and every material handling aspect. And it's those pieces, that when framed and implemented, thereby working together, will in the long run make the most of the efficiency and productivity in your distribution.
Author: Heather Connors, Director of Marketing, Conveyor Handling Company
Let Conveyor Handling Company help YOU find the right material handling solution!