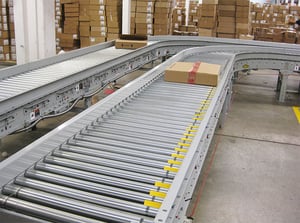 Routine maintenance contributes to the life of your equipment, thereby diminishing the possibility of downtime in production. But even with preventative maintenance and routine cleaning, there is no guarantee. There is always that chance of a breakdown in your conveyor equipment. With so many different conveyor manufacturers, all using many thousands of different parts, a conveyor system is reliant on those parts to help maintain 100% uptime and efficiency. No system ever attains 100% uptime for any extended period of time, therefore it is imperative to stock recommended spare parts to minimize downtime when system components begin to fail. Without an inventory on hand, delays may occur in the repair of your system.
Work with your material handling integrator to identify and provide a comprehensive list of the most critical spare parts needed to avoid a shutdown of production and have them stocked in your distribution center.
Author: Heather Connors, Director of Marketing, Conveyor Handling Company
Are you looking to add spare parts to your warehouse inventory?