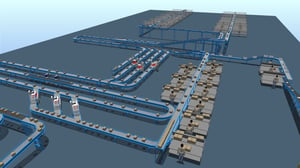 It's all in the design. A design that takes shape and transforms into an efficient, cost effective, productive and unique solution for your warehouse or distribution facility.
But before a design, there must be a need; a material handling challenge to overcome. And it is that need longing to be fulfilled—a design that encompasses a purpose, a plan, a budget, and an implementation.
In order for this design to truly work, an understanding of the customer's operation is required. Furthermore, it entails an assessment of immediate and long-term material handling requirements in order to meet the needs of the customer. It involves the engineering sales team to work closely with the customer on the design to gather the necessary information for a comprehensive data analysis and layout development.
All of this information is used to provide a unique custom designed solution to include equipment, mechanical installation, electrical wiring, controls system design software and hardware, compressed air piping, testing, and training for your facility. Whether your business is manufacturing, distribution or simply storage, it all starts with the design and ultimately ends with a solution to your material handling needs.
Author: Heather Connors, Director of Marketing, Conveyor Handling Company
Looking for help in designing a solution for your facility warehouse space?