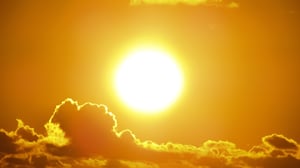 There is no mistaking a heat wave when the summer months arrive. Equipment operators are likely to reach lethargy in their movements at one point or another and the material handling equipment may well be running on fumes.
All too often there are signs of equipment issues, and potential failures may arise due to the extreme heat and conditions in a warehouse. Addressing and resolving these issues sooner rather than later will only minimize any downtime and ultimately keep your employees cool through those summer months.
3 ways to maximize the efficiency of your operation
Keep a continuous pulse on your warehouse employees and equipment operators. When temperatures rise, so do the temperatures in your warehouse. Provide more frequent breaks and keep them hydrated. Hydration increases energy levels and helps to relieve fatigue from high (hot) temperatures. Consider investing in ceiling fans and wherever possible, keep areas 'open' (dock or bay doors and windows) to assist with the ventilation in the warehouse and employee comfortability. In doing so, the temperatures will certainly lower providing a cooling effect, creating a more pleasant warehouse space for your employees. By addressing and implementing these measures, employees can maintain a healthy work environment, minimizing a health risk to themselves and in turn avoiding a possible labor shortage to you.
Go green. In the simplest of terms, LED lights are cooler. Implementing LED industrial lighting is another great way to maximize your material handling in the summer. LED consumes less energy and converts most of that energy into light. As a result, LED lighting generates far less heat. With a longer lifespan and greater efficiency than regular light bulbs, LED proves to be both cost efficient and eco-friendly. And should you choose to look further, in evaluating the remaining warehouse space and material handling equipment occupied within, automation and automated technologies are another integral piece to its infrastructure. Automation provides more consistency while alleviating some of the stressors and pressure on the employee, making automation the right solution to help ensure that operations run smoothly.
And with any automation and automated technologies along with additional material handling equipment, preventative maintenance, monthly or quarterly, is ideal in keeping any equipment issues or catastrophes to a minimum, if any at all. With much equipment continuously running throughout the day and sometimes overnight, it's imperative to maintain that equipment for longevity and for maximum productivity. How products are moved throughout the warehouse and the speed to which they are moved is directly dependent on the specific equipment that moves it, so keep up with its maintenance to avoid downtime.
Take a look at your own material handling. How are you tackling those heat waves? There may never be a full proof way, but rest assured that there are always ways to maximize operation efficiency in material handling to beat that summer heat.

Author: Heather Connors, Director of Marketing, Conveyor Handling Company
How are you tackling those heat waves?