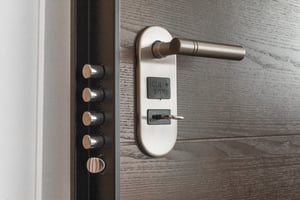 Think of a turnkey solution from the vantage point of buying a new car. You've done your research, a bit, and likely have an idea of what style car you want, maybe even a specific make or model. And you thoroughly examine all the features and functions—the bells and whistles—of each car before making any final decision. So that when it's time to sign on the dotted line for the car that will provide everything you need to get from one place to the next and that the performance is what you want and need in a car, you are ready.
So is the same when it comes to a turnkey solution for material handling. This complete system, built from start to finish, takes you from point A to point B with the end result satisfying the movement of products and materials seamlessly—and all the 'in between' is equipment, systems, and controls, or in our car analogy, the features, functions and overall performance, that which accomplish the same.
There are 3 key components to a successful turnkey system solution. Design. Implementation. Installation. Learning how each one plays an integral part in the turnkey solution is the key to navigating your material handling.

Design
It's all in the design when it comes to determining the best solution for your material handling needs. The complexity and detail in the design requires an extensive mastery of material handling products that may be used along with a thorough understanding and knowledge of the customer's operation. Maximizing on the capacity will not only satisfy the footprint space, but also increase throughput and efficiency.

Implementation
The implementation of a turnkey solution can be intimidating. For it is in this implementation that the design comes together with any material handling equipment and products to forge this masterpiece. Utilizing innovative technologies best suited for the operation at hand puts the distribution operation on center stage for success. Developing a strategy to merge the material handling equipment with one another is paramount to a seamless implementation.

Installation
It is at the installation stage where design meets implementation and a successful turnkey solution emerges. It is the inner workings of how each piece of the puzzle comes together as a whole and the conglomerate manifestation into a working, efficient turnkey system for material handling. This process is nothing shy of remarkable—the infusion of a design and analysis combined with the development of many various elements and equipment that feed into each other, merging into one.

Of course, it is at the conclusion of the installation that the proverbial ropes are pulled from the docks, the boat put to sea, and sails away. And a turnkey solution shines.

Author: Heather Connors, Director of Marketing, Conveyor Handling Company
How will a turnkey solution improve your warehouse operations?