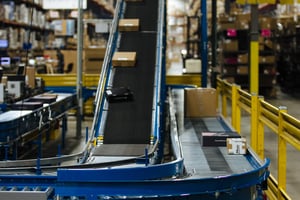 The sweltering heat of summer can get to anyone. Tack onto that the additional heat generated from your current conveyor systems and other material handling systems in place in your warehouse facility. Ambient temperatures in the summer can change the work environment, and the employees who run those systems. Too much heat in those facilities and distribution centers can have a negative effect on your employees, production levels and perhaps the quality of production.
Those summer months give us pause to consider, if not already implemented, automation within the facility to alleviate some stresses and pressures on the employee. Automation, in various material handling capacities, provides consistency, generally more productivity, and efficiency throughout your warehouse facility.
Employees fatigue, injuries happen, workers age. Our need for exceptional skill sets are not met. And a decline in the physical capabilities of human labor is unattainable. It's always important to keep in mind the working conditions of the employee; furthermore, the conditions of your warehouse facility to assure a smooth running operation, even in the hottest of days.
Is automation right for you? Are you looking to facilitate a more pleasant and effective working atmosphere?
Author: Heather Connors, Director of Marketing, Conveyor Handling Company
Looking to automate your material handling?