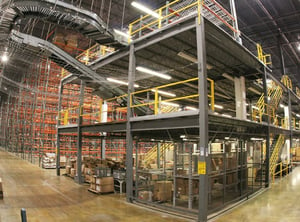 Does your facility footprint have expansion capabilities? Mezzanines are a cost-effective way to maximize that 'in the middle' useable vertical space without having to expand outside your building footprint. It's a perfect investment for companies seeking additional space to accommodate product line growth, additional pieces of equipment now part of operational processes, or the need for extra storage/office space in an existing facility.

Investing in a mezzanine offers numerous advantages. Not only do mezzanines provide convenient access between machinery, equipment, and buildings, but they can also serve as sturdy platforms for air handling equipment in clean rooms or as versatile fan decks. Mezzanines are an ideal solution for storing items that don't fit well in traditional racking systems, as well as for creating flexible options for racks, shelving, or full-pallet storage. By utilizing these storage solutions, you can maximize the space below for production purposes. Additionally, mezzanines are great for storing small parts or infrequently used items like slow-moving inventory. They can even support necessary piping for manufacturing processes, specific equipment, or a conveyor system for efficient merging and sortation.

Mezzanines are not limited to indoor structures designed for high ceiling facilities. They can also be utilized outdoors to seamlessly connect buildings, providing ample space and a robust load capacity. Additionally, they offer optimal support for conveyor systems, manufacturing piping, and various industrial operations. A wide range of accessories to include detachable safety barriers, handrails, stairways, ladders, gates, access ramps, and crossovers allow for its unique customization in design and capabilities. Furthermore, the flexibility and adaptability of a mezzanine extends beyond physical capabilities—as it can be relocated to meet the changing demands of your industry.

There are a few options to consider to include free-standing structural, rack-supported, and shelving mezzanines. Each option offers its own unique advantages and can be tailored to suit your specific needs. Whether you require a robust and independent structure, additional support from your existing rack system, or versatile shelving options, the right mezzanine solution can elevate your storage capabilities to new heights.

Experience the full potential of your building with a mezzanine. Maximize your vertical space and unlock additional square footage without the hassle of costly extensions or the need to relocate.

Author: Heather Connors, Director of Marketing, CHC