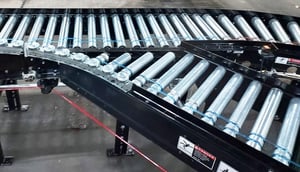 Regular conveyor maintenance is not only essential, but crucial for the smooth and efficient operation of your facility. By regularly maintaining your conveyor equipment, you can ensure that it functions at its best, thereby increasing its lifespan and overall performance. It also helps detect and resolve potential issues at an early stage, preventing them from turning into major problems or sudden equipment failures. This proactive approach will not only minimize downtime and save you money on costly repairs, but also allow your conveyors to operate at maximum efficiency, resulting in optimal productivity and output.

Moreover, by conducting routine maintenance, you can address any safety concerns, ensuring that your equipment operates safely, reducing the chances of accidents or injuries occurring in your facility.

5 CONVEYOR MAINTENANCE TIPS TO FOLLOW

Monitor Your Equipment: Regularly inspect the various components of your conveyor system. When it comes to conveyor maintenance, it's important to regularly check all of the moving parts associated with the conveyor, such as the motors, rollers, and belts. Be on the lookout for signs of overloading, rust, frayed belts, loose drive chains or gears, and other signs of wear and tear. All of these components should be inspected on a regular basis to ensure they are in proper working order.

Tighten Components: Once in a while, double-check that all screws, nuts, bolts, and other components are securely tightened to maintain the stability of the system. A good way to remember is to always check them after a period of heavy operation or after any repairs have been made.

Monitor Belt Tension: It's important to keep the tension in the conveyor's belts at a constant level. If the tension is too high or too low, the conveyor might start to slip, which could cause additional wear and tear on the system. Using a belt tension meter can make it easier to monitor the belt tension and make any necessary adjustments.

Inspect Electrical Connections: Inspect all of the electrical connections associated with the conveyor. Ensure that all connections are properly secured and that any exposed wiring has been neatly managed and is free of any potential hazards.

Clean and Lubricate: Keeping your conveyor clean is essential to ensure that all of its parts are in good condition and that it performs efficiently. Cleaning should be done regularly and be sure to lubricate drive chains, pulleys, and other moving parts to reduce the friction, extending the life of the system. Properly cleaning the conveyor will help keep dirt, dust, and other debris from getting into the system and possibly causing any damage.

In order to maximize productivity, ensure equipment durability, enhance performance, uphold safety regulations, and minimize expenses, regular maintenance for your conveyor system is vital. By following these maintenance tips, you can keep your conveyor equipment in great condition and optimize its functionality. Prioritizing preventative maintenance will seamlessly and efficiently keep your facility running at its best.

Author: Heather Connors, Director of Marketing, CHC