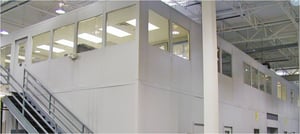 Looking for more office space for your on-site facility operations team? Do you need visual oversight into the movement of product in your facility?
A mezzanine is an elevated open structure that expands the work area, utilizing the space within your facility more effectively. However, mezzanines are best suited for product and material handling storage needs; ideal for material handling or sorting operations. These freestanding customized steel platforms, integrate into the operational field of your facility and floor space surroundings.
Inplant office systems create a 'space' away from operational activities in the warehouse. They act as a divider between the operational side and the administrative side of daily operations. These offices can accommodate small to multi-office complexes and up to several thousand feet, and can house additional offices by utilizing the vertical space—building up, rather than out.
Thereby creating a quiet workspace away from the daily operational activities, an inplant office system solution enables managers to have oversight and watch over employees and processes from afar, creating a more efficient and safe environment. Inplant offices can be used to increase the storage capacity of records or documents kept for operation mangers on-site allowing for quick reference when needed.
With unlimited flexibility, inplant office systems can be modular in design with quick and easy installation. And should warehouse specifications change, they can easily be modified to accommodate. Possessing load bearing capabilities, inplant offices also provide additional thermal insulation for comfort. Inplant offices are a cost effective way to increasing the office space without expanding outside of your current building footprint, and provide a more suitable and sustainable option when it is office space you need.
Author: Heather Connors, Director of Marketing, Conveyor Handling Company
Yes, I'm interested in finding out more about inplant offices!