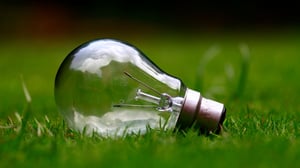 It's no surprise that cost-effective quality solutions with a quick return on investment are sought after by businesses today. And when the cost savings can be measured in a tangible way, doesn't it behoove us to let the light shine in allowing businesses to reap benefits over a lifetime, saving money, time, and energy.
Warehouse distribution centers and facilities are no different; and more of them are hitting the gas pedal on their businesses by implementing green-sustainable LED lighting as a means to reduce warehouse expenses. The continuous and consistent daily operations in a warehouse is repetitive—productivity imperative. Of the many innovations and solutions that can improve overall warehouse operations, LED industrial lighting is one that will have a tremendous impact on the overall function and operation of distribution.
There are many viable reasons to upgrade to LED and transform your warehouse into an eco-friendly, energy efficient workplace. Using LED lighting has enormous benefits in the material handling industry. Retrofitting with LED can generate savings of 50-80% of energy costs and reduce harmful emissions. The energy savings alone outweigh the costs for the initial investment, providing a relatively quick ROI. And with very attractive incentives and rebates provided by local, state, and federal governments, along with competitive LED pricing, the demand for LED as a green-sustainable lighting solution has surged.
Motion sensors are another great add-on in retrofitting your warehouse. When properly used, they can reduce operating costs and maximize your investment. Areas that are identified as high-traffic areas or 'workable' areas can be controlled through motion sensors, paired and monitored hourly for additional energy savings in your warehouse.
Safety is another area where LED has a voice. Made with epoxy lenses, not glass, LEDs are resistant to breakage. With no lamps or ballasts to change, installation is made easy, saving on maintenance costs. Additionally, LED alleviates the need to increase cooling equipment, such as fans, in your warehouse during the hot summer months since LED lights emit very little heat. Proper lighting in a work environment must also be a safety consideration. Improving productivity with optimum light levels in a workplace has a profound result on the workforce. With LED, there is no ultra-violet or infrared radiation. Instead, LED produces instantaneous illumination—a full spectrum light with improved color efficiency. As a result, a more natural and soothing environment is created.
Developing an LED strategy to implementation can maximize efficiency and minimize expenses. The US Department of Energy continues to endorse and embrace LED technology as the future of lighting. With increased energy efficiency, better lighting and cost savings, every distribution should go green.
Isn't it time to let the light shine in on your distribution?
Author: Heather Connors, Director of Marketing, Conveyor Handling Company
Interested in learning more about our Industrial LED lighting solutions?