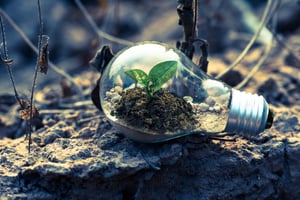 Are you an environmentally responsible business? No matter what the motivating factors, setting green initiatives in your warehouse will improve operations and minimize costs.
People worldwide are consumed with the health of our environment. How our businesses contribute through the use of environmentally conscious energy products helps to promote a greener tomorrow. Utilizing automated technologies reduces the strains and conserves resources for efficient warehouse operations. One of the primary 'green' benefits to these automated technologies (automation) is energy consumption. And through the use of LED industrial lighting in warehouses and distribution centers, energy consumption, durability and long life all contribute to overall productivity and ROI long term.
LED lighting in the material handling industry is a more Eco-friendly, green-sustainable lighting option. With increased energy efficiency, LED saves between 50-90% of energy costs with a 50,000-200,000-hour rated life. There are no lamps or ballasts to change with LED, reducing maintenance costs and proving to be a more economical choice.
Environmentally, LED lights do not contain mercury and are lead free, lasting longer and producing less waste. Unlike regular lighting, there is no flicker and no buzzing to LED, and with a low operating temperature producing less heat, they don't require as much ventilation helping to offset HVAC costs.
Industrial LED lighting's benefits far outweigh the initial up-front costs incurred on setup. Furthermore, many companies offer funding solutions to include tax incentives, government rebates, federal grants and financing options to keep out-of-pocket costs at a minimum. With all the tangible benefits to LED and the cost savings over time, is it no wonder why businesses go green!

Author: Heather Connors, Director of Marketing, Conveyor Handling Company
Looking to GO GREEN in 2019?