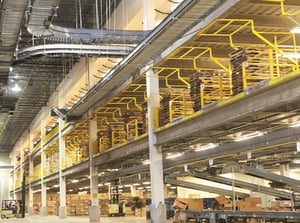 Moving in or looking to update your warehouse or facility? Looking to integrate the new with your existing warehouse equipment? Piecing together your warehouse while maximizing the footprint available, entails a precise execution of the right material handling components.
Whether using your existing equipment or upgrading to new in the material handling industry, or a combination thereof, the integration of systems requires a careful thought out process—one that involves a layout, an engineered design, and a budget.
With the assistance of a systems integrator, you can visualize your space and create a system designed to meet your material handling challenges while also keeping a budget intact. A systems integrator can utilize both new and existing equipment in rounding out a full turnkey solution implementation to strengthen your warehouse facility's day-to-day operations. Their combined knowledge and expertise in the material handling industry will keep you on track in meeting the demands of your warehouse facility; integrating systems to achieve a turnkey engineered system that will run smoothly and efficiently, and maximize output in the workplace.
Author: Heather Connors, Director of Marketing, Conveyor Handling Company
Moving in or looking to update your warehouse or facility?