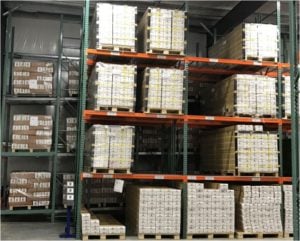 Looking for the ideal storage system for your distribution center? Are you looking to remove the bulk product from your floors and transform your warehouse? Racking storage systems provide the ideal product throughput based on your warehouse needs. Some key benefits to implementing a rack system include accessibility, durability, and increasing warehouse storage capacity.
Some things to consider when determining the best configuration and type of racking system to implement include the climate of storage area and fork lift specifications. Temperature, rack height and aisle size are key elements in developing the right solution.
The most common and versatile type of rack system is the pallet rack. With its modular design and flexibility, selective pallet rack provides direct access to every load, making it the most efficient use of space. When dealing with bulky and oversized items, cantilever rack is your typical and optimal go-to for medium to heavy-duty storage. Flow rack systems (carton and pallet) are used for high density storage and ideal for first-in-first-out storage. Drive-in and push back rack are additional racking systems available.
Whether you are looking to save space or to improve day-to-day throughput processes, the right racking storage system can shape your facility to its maximum potential. Is it time to rack it up?
Author: Heather Connors, Director of Marketing, Conveyor Handling Company
Contact CHC today to discuss your racking needs