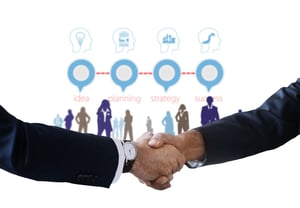 What is in a name? How is a Systems Integrator (SI) defined? By definition, a Systems Integrator can be "an enterprise that specializes in implementing, planning, coordinating, scheduling, testing, improving and sometimes maintaining a computing operation." And whereas this 'loaded' definition boasts of directives and accomplishments, just how does the mere definition live up to its name?

The important role and purpose of a Systems Integrator can not be understated. Bringing a vision to you, the customer, to solve a material handling challenge is the job at hand, while providing all the necessary resources to successfully bring a project to completion.

Time is valuable. And you, the customer, have bigger fish to fry. Think of a Systems Integrator as a partner, but the one that does all the heavy lifting. They understand relationships and working together in order to resolve material handling challenges. Their extensive industry knowledge is all encompassing allowing for a wealth of options on the table. Their collaborative efforts with a multitude of manufacturers and vendors alike only amplifies finding and determining the best material handling products and services specific to your needs.

As the single point of contact throughout each phase of a project, an SI provides value and integrity with your best interest in mind. The innovative technologies available is only matched by the creative ways a Systems Integrator uses those technologies to shape and transform the material handling operation in your facility.

Serving to meet your material handling challenges, an SI delivers measurable results and increases overall efficiency to your daily operation. As simple as the name, its complexity to maneuver and position itself in your distribution is unwavering. A personification in the industry, your Systems Integrator is an invaluable partner to have alongside you on the road to material handling.
Author: Heather Connors, Director of Marketing, Conveyor Handling Company
Are you ready to get started with a Systems Integrator?