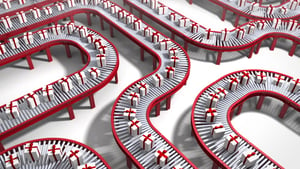 Fulfillment is in its peak season. Operations are moving at a rapid speed to get items stacked, packed, and delivered to your consumers doorstep during this holiday season. What's in your holiday pocket and how are you preparing your warehouse for the busy holiday season? How are you utilizing your material handling equipment to meet your customer needs? Do you have procedures in place to maintain or extend the longevity of your material handling equipment; performing routine preventative maintenance to ensure that your equipment is in good working order during its peak season?
Conveyors are moving, sorters are sorting, and packers are packing in fine fashion. And your material handling equipment is there to efficiently and effectively work to meet your order fulfillment requirements. Without the proper material handling equipment and solutions, your material handling challenges can leave you in the cold.
In today's fast paced Ecommerce society, consumers are eager to receive their goods…and fast—some even qualifying their purchases based on the quickest turnaround. Time and efficiency are prominent driving factors in order fulfillment—most especially during the holidays! Internal processes are in place to get the job done. And countless checkpoints throughout those daily operations secure and fulfill the customer's needs in delivering product. But it is all of those processes on the back end of things that put material handling on the front of the line. And it is during this peak time that a spotlight is cast on your material handling, front and center; the good the bad, and the ugly.
So, are your conveyors moving at a speed to handle the throughput? Are sorters in place, sorting and diverting the products in such a manner as to keep things moving smoothly and efficiently? Are your employees taxed from packing shipments where AGV's or even robotics in some capacity are able to improve those processes and advance production?
As your operations are submersed in holiday fever, take notes? Are there changes that can be made now or do you look to the future and make these important changes early in the year to ensure that the next holiday season will be the most wonderful time of the year—for you and for consumers.
Author: Heather Connors, Director of Marketing, Conveyor Handling Company
Get started with CHC, your systems integrator for all your material handling solutions!