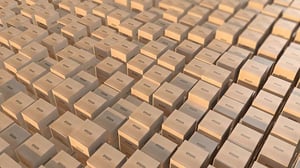 Society's standards and expectations in the 21st century have changed significantly when it comes to the shopping experience. Consumers have become increasingly impatient, always demanding more and expecting convenience. As a result, retailers and manufacturers are feeling the pressure to deliver to the consumer everything and anything, anytime, anywhere, and from any place.
Putting the infrastructure in place to implement this concept has become a major challenge for retailers and manufacturers. Facilities are plagued with inefficiencies including a lack of inventory visibility and a pressure to turn inventory and to fulfill margins. Without some type of change to their operation, it will be difficult to meet this goal.
The concept behind Omni-channel Fulfillment is exciting and the answer to meeting this challenge. It is the fulfillment of a sale using multiple channels to provide the customer with a seamless shopping experience whether the customer is shopping online from a desktop or mobile device, by telephone, or in a store.
And while we embrace the Omni-channel consumer, change is inevitable in how the day-to-day logistics and operations produce and accommodate these orders. As inventory needs advance due to this prominent visibility in Omni-channel fulfillment, the implementation of WMS (warehouse management systems) or WCS (warehouse control systems) solutions are becoming a necessary expense in all warehouses, distribution centers, and now in the store itself. These solutions can run the gamut to include anything from picking & packing to software & controls to scanning and vision systems. They improve inventory accuracy, both in the warehouse and distribution center and at store-level. Expanding support for some of the new changes to retail ordering—buy online, pickup in store and buy online, ship from store. In our busy-driven state of retail, Omni-channel fulfillment will be the driving force behind your business.
Author: Heather Connors, Conveyor Handling Company
Learn more about what material handling solutions drive your business