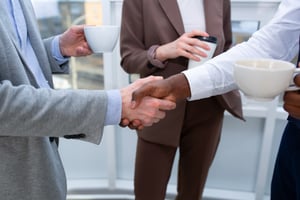 The importance of customer relations in any industry is paramount to its success. Building that relationship with the customer is the foundation to any business. But are businesses paying enough attention on those relations? Take a look into E-commerce—more specifically, Amazon. Over the last couple years of the COVID pandemic, customers have acclimated to the speed and ease in placing an order and having that order delivered speedily. Their experience, though transactional in nature, is quick, easy, and seamless…for the most part. When an issue arises, an Amazon Customer Service is quick to respond and assist in any way via chat, phone or email.
The bar is set pretty high. People are accustomed to quick response times. They do not want to wait. Their patience has waned. And who can blame them.
The relationship between a salesman and their customer should be no different. Speed is essential in customer building relationships. Responding and reacting to customer needs should be swift. When a customer calls to inquire about a business need or solution, the response time should be immediate.
Consider the interview process for a job. Candidate A and B both have the same qualifications and character qualities. Both interviews go well—the same in fact. Candidate A reaches back out that same afternoon to thank his potential employer for meeting with him to discuss the job opportunity. Candidate B opts not to follow up. Who do you think looks better for the job?
Making sure to reach out to your customers in a timely manner can make all the difference in a business relationship. Even if the information you do or don't have is not complete, the reach is what is key here. Communication is a fundamental in business. Building that rapport with your customer from the ground floor up is essential. You are in essence building a foundation and hopefully one with a good, solid footing.
Starting from the moment of impact—the moment they are introduced to your company—you, your brand, and your company is in the hot seat. Any initial interaction begins with that first proverbial click, or in this particular case, the introduction. Letting them know that they have someone to connect with sets the tone. It let's the customer know that you are there…you are present…and that you will walk them through the sales process…even if it means a little hand holding along the way.
And the follow-up…well that goes without say. A follow-up (or two, or three) comforts them. It reaffirms why they chose you. A good business and good salesmen will take those necessary steps to ensure your confidence and competence with any transaction. Eventually, if your customer relations are built on the right foundation, evangelists of your brand, relationship and business will emerge. And that ultimately generates more ROI than any one thing alone.
Author: Heather Connors, Director of Marketing, Conveyor Handling Company
Are you ready to build your facility's foundation?