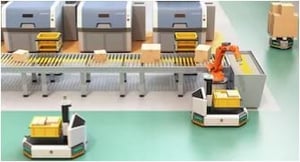 AGV's are but one suggestive component to improving the daily operations of the work space in warehouse distribution. With that said, they have long led the way to automation with its many benefits and advantages. These power guided technology systems are aimed to ensure the success of your operation.
As guided pieces of equipment, AGV's move throughout a facility to perform day-to-day tasks. They serve as support to the processing and handling operations, avoiding damage to the product and building. And AGV's, compact in size with varying capabilities, open up the floor space, providing a neat environment and ultimately a safer work atmosphere in a controlled setting. Designed to accommodate narrow aisles, AGV's easily allow for their expansion of additional vehicles, assisting in the overall increase of product throughput in a facility.
As a result of tracked movement through software applications and auto mated technologies, AGV's follow a select path, thereby allowing them to handle product more gently. The accountability of movement is followed, so product misplacement is at a minimum. With greater flexibility, these guided vehicles are able to perform duties at increased speeds, reducing labor costs and optimizing work conditions.
If your future plans for your facility include automation, then AGV's, whether used alone or in conjunction with a larger material handling system, will certainly help to improve performance and increase productivity…guiding your facility's functions to its successes.
Author: Heather Connors, Director of Marketing, Conveyor Handling Company
Looking to implement automation in your facility?