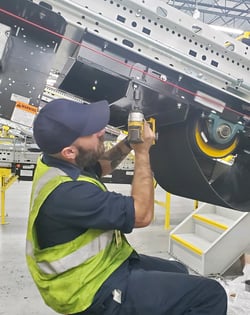 For the conclusion of this 3-part series of a turnkey system solution, the focus turns last, but certainly not least, to implementation and installation. This is where the rubber meets the road—the final stage in this process, where an idea transforms into a design that is engineered and ultimately implemented and installed—where the transfer of material handling products can begin.

This implementation may be a bit daunting—overwhelming for some, yet it is at this point that the design, in conjunction with any material handling equipment, products and innovative technologies, merge to produce this work of art. A work of art, yes, because it truly is a remarkable thing to watch how a vision comes together. The countless hours spent on a design and layout, the engineering decisions made to determine the best suited products and solutions, and a strategized plan to put into action the implementation and installation have landed here on this path of the journey. Now the physical work begins—piecing the puzzle together and putting your operation on the main stage, front and center, in efforts to lead it to success.

Bridging the gap between the material handling equipment, products and innovative technologies is the key to seamless implementation and operation. The inner workings in how each piece of the puzzle fits together as a whole and the conglomerate manifestation into a working, efficient turnkey system for material handling defines this stage. This process is nothing shy of extraordinary. The infusion of a design and analysis is combined with the development and materialization of many moving parts and material handling equipment, feeding into one another and merging into one complete fluid system.

The installation process, at times, can be lengthy and sometimes uncertain—and likely not a cookie cutter, cut and dry process. This stage requires an abundance of patience. Every element of the solution requires a methodical and scrupulously coordinated install to ensure functionality and performance. It is at this stage that a detailed install schedule is followed. This schedule also reflects any deliveries of equipment and training that may be made available for operation and maintenance. To accommodate the needs of the customer, in conjunction with an awareness of any existing operations, this schedule is generally prepared prior to the start of implementation/installation to minimize any downtime that may exist while this process is in play. However, it is not uncommon to see and make changes along the way for each moving part (product and solution) is dependent on the next to collectively and efficiently work together. At completion, a testing of systems is performed to reaffirm a polished transition in product movement and processes.

And so, the evolution of a turnkey system solution comes full circle—the finale in how the design, engineering and implementation and installation phases take shape. When there is an extensive understanding of the warehouse process, industry knowledge and creativity, meticulous detail, and automated innovative technologies carefully woven into every solution, a material handling integrated system truly works best and excels in its limelight. Just as a star is born, so is any foreseeable achievements of a system solution as it blossoms from inception.


Author: Heather Connors, Director of Marketing, Conveyor Handling Company