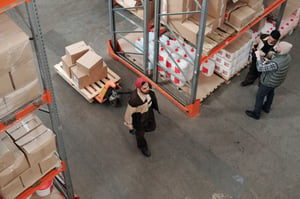 The highest priority of any warehouse should be to ensure safe material handling and maximum storage efficiency. Assessing the vertical space is a great way to maximize efficiency and insure safety. Utilizing the vertical space allows for products to be broken down into smaller, more organized packaging configurations, leading to a more well-kept warehouse. This maximizes capacity and allows for less cumbersome and more ergonomic movement from one storage location to another. One of the best ways to use this vertical footprint and take advantage of higher ceiling heights is to implement a racking system.

Of their many benefits, racking systems minimize space by making the most of the available footprint to store more items in a smaller area and in a well-organized, efficient manner. These systems handle different load capacities and applications. This allows for better goods management, which improves inventory accuracy and navigation throughout the warehouse floor. Available in various styles and configurations, such as selective cantilever, drive-in/drive-thru, carton flow rack, push-back, and double deep, racking systems are often chosen based on the items being stored and specific facility needs.

There are many factors to consider when choosing the right rack system for a warehouse. These include the size of the warehouse, the items that need to be stored, the type of storage desired (static or dynamic), the budget, and the number of shelves that are needed. Here are two of the most common rack systems available.
Pallet Rack
These warehouse rack systems are used to store and organize pallets of materials or products. They help reduce the chance of damage to products and makes inventory management more straightforward since goods are correctly stored and located. Utilizing forklifts to access stored goods, pallet rack increases the safety of employees, limiting human error and potential accidents.
Pallet rack systems are designed to increase efficiency by maximizing storage space and allowing quick and easy access to goods. By reducing the amount of time it takes to pick, pack, and ship items, pallet rack systems can reduce labor costs and improve overall efficiency. By utilizing pallet rack systems instead of other storage methods, companies can easily scale their warehouses up or down as business needs change. This increased scalability makes it easier for companies to adjust their storage needs and make changes based on current demand.

Flow Rack
Flow rack systems use rollers or skatewheels along with gravity to move items along the rack system. Flow racks enable a product to flow from one level or shelf to the next, allowing a smooth and rapid product replenishment process. The goal of flow rack systems is to allow products to flow through multiple levels without the need for picking or retrieving items from the previous level.

The main benefits of flow rack systems are improved safety, higher productivity, greater flexibility, and increased product levels.

Flow rack can help improve safety by using the racks to maintain a constant flow of stock, preventing items from piling up and creating hazardous spots. They make it easier for workers to reach products safely and efficiently. In terms of productivity, flow racks can help to minimize the time needed to find and retrieve specific items, as they can store multiple levels of products in an organized manner. Additionally, they can be more easily rearranged or reconfigured to accommodate higher-priority items as needed, allowing for greater flexibility and increased product levels.
Racking systems provide a reliable and customizable solution for storing, organizing, and managing materials. They can easily be adjusted to meet changing storage needs or warehouse requirements and minimize material handling inefficiencies. Determining the needs of your warehouse is step one; then deciding on and implementing the right rack system to best meet those requirements will put your facility on the right track for success.

Author: Heather Connors, Director of Marketing, Conveyor Handling Company