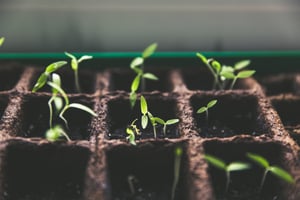 Sometimes we plant seeds with the need or desire to change our landscape…with the assumption that the fruits of our labor will blossom day in and day out…and over time those flowers will repeatedly bloom each year. And we plant these seeds with the anticipation and expectation that something will happen to inevitably change our landscape forever—in some way, shape, and form. Automated solutions in the material handling industry are those seeds to be planted, transforming your warehouse distribution center footprint and improving efficiency and productivity each new year.
There are many automated solutions, increasingly in demand, on the market to consider. Finding the necessary resources using a systems integrator to evaluate your options would be the first step in determining the right solution for your operation.
A few good seeds. Automated guided vehicles (AGV) provide a safer work environment, optimizing work while avoiding damage to product or equipment. Robotic palletizers improve the end of line operations, decreasing labor costs. Scanning and vision systems, and software and controls can also be utilized to consolidate processes, creating a more fluid order fulfillment process.
Seeds to grow. Space utilization is a key element to optimizing storage capacity. Determining how automation can be used to increase the throughput efficiency in your warehouse is important. Additionally, the where is just as important when looking at the footprint of your warehouse. Finding the right balance between the two will maximize productivity and increase efficiency to ensure smooth day-to-day operations, delivering enormous gains.
Implementing these automated solutions to grow or improve your operation will simplify daily operations and decrease any demands on your facility. It is the after-implementation of these automated solutions that showcases the growth results produced within your warehouse facility and by extension, the end user.
We are all continuously planting seeds in our business with the hopes and goals of growth and improvement over time. It's how we feed, fuel, nurture, and care for those seeds day in and day out that truly measures the success of automation.
Author: Heather Connors, Director of Marketing, Conveyor Handling Company
Are you looking to plant seeds of your own? Let CHC help!