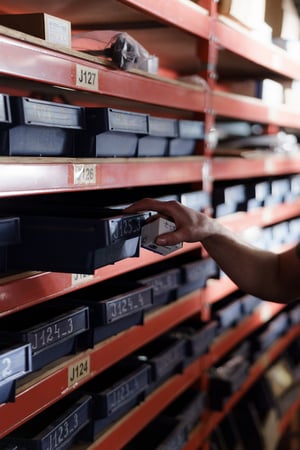 When looking through the camera lens at your overall operation, it's easy to overlook some of the mundane elements that otherwise prove most crucial in times of need. Taking stock in your material handling equipment and having an inventory of critical spares is a necessary, indispensable, component in keeping and maintaining your equipment. Not doing so, can have reverberations that can and may impact daily operations.
Unsure where to start in your facility? Most material handling systems integrators will complete an inventory analysis of your material handling equipment to identify the most critical and essential spares needed. Recommended spare parts are also provided to better position your facility in the event of a breakdown. And in almost all instances, manufacturers generally provide a parts wish list for their recommendations on parts that should always be kept on hand.
Here's a take on the top 3 must have critical spares:
Motors/Gearmotors. Most conveying equipment relies on motors/gearmotors to run and can fail due to overloading or overheating. Keeping a stock of spare motors/gearmotors can ensure a quick recovery in the event that a replacement is required. Gear Reducers connect the motor to a driven load on a conveyor and control the torque and speed in conveying product. These spares are necessary in providing better load distribution and help to maintain conveyor longevity. Belts are one of the most vital spare parts. Any belt malfunction has a potential to disrupt the flow of product which can result in throwing operations in chaos.
In addition to some of these critical spares, routine checks and maintenance should be performed to minimize problems and pick up on any equipment issues. Those routine checks may consist of aligning, cleaning and lubricating your equipment, and making sure that any dust or debris is free from the rollers and conveyor surface. As always, inspect your material handling systems routinely. Listen to your equipment. Continued regular maintenance and upkeep is a necessity in any distribution and one that will maximize productivity.
It is clear that facilities must take stock in their inventory to minimize downtime should their material handling equipment go down. Keeping that sufficient stock of critical spares on hand allows you to quickly respond to any breakdown in your system. Inevitably, equipment will fail from time to time, but how you prepare will ultimately determine the length of time it takes for your system to be back up and running.
Author: Heather Connors, Director of Marketing, Conveyor Handling Company
Do you have a bench stock of inventory on hand?