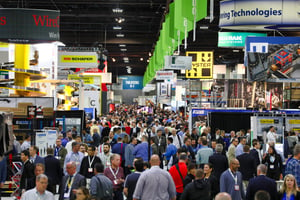 In just over two weeks, many will congregate in Atlanta, Georgia's World Conference Center to submerse themselves beside the industry's leading providers in supply chain. And as they do so, many attendees will go with an expectation to walk away with the knowledge and foresight to propel their warehouse operations to the next level.
They will have educated themselves from the brightest minds on trends and innovations that can help transform distribution and order fulfillment. With these products and automated solutions ever-evolving in the material handling industry, MODEX will provide a full view on all that is logistics.
What will you look for at MODEX 2020? How will you prepare and proceed?
Processes: Take some time and review the steps by which product moves within your warehouse. Determining how is a key factor in shaping any solutions that would best fit your material handling needs.
Projections: Sometimes there is no way to plan for the future, and any company growth that may be associated. However, having a good handle on where you project your company to be can have every impact on the equipment you choose to implement on the here and now.
Price: Price has and can be the elephant in the room, but with an analysis of the costs incurred versus the ROI, your material handling solution will undoubtedly prove to outweigh any budget, saving money in labor costs, and increasing productivity and accuracy.
People: Make a point to talk with a systems integrator; one who will collectively work with you to design and implement a material handling solution to optimize the efficiency and productivity of your operation.
The extensive material handling equipment combined with industry technology offered at MODEX play a critical role in the future of your warehouse and its capabilities. There is always room for improvement—a need to execute a solution that will improve the productivity and efficiency for optimum growth. And it is the direct result of those products and solutions put in to place that ultimately enhance the success of your warehouse and daily operations. See you at MODEX 2020.
Author: Heather Connors, Director of Marketing, Conveyor Handling Company
Attending MODEX? Set aside some time to come see us!