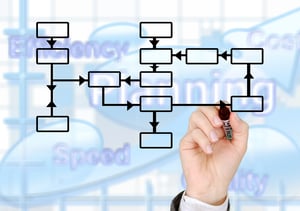 There are several trends impacting the material handling industry, but one that requires distributions and warehouses alike to take action is the need for streamlining (internal) processes. These day-to-day operations require strategic planning in order to meet the customer demands more quickly and efficiently. Often, automated solutions have increasingly met those needs, amidst its own challenges.
The shopping experience for the end user has changed drastically over time. There is more demand to get product in their hands quicker for a more optimal experience. In order to do so, solutions put into place must work cohesively, accurately and efficiently and do so collaboratively with other internal components.
Consolidating these everyday operations, utilizing various material handling products and services to include automation and warehouse controls will prove to be most effective in driving production.
And as labor costs and time required to perform the day-to-day tasks increase, the need to streamline processes to maximize the accuracy and efficiency becomes even more prevalent, removing human element from the equation and leaning more towards emerging technology.
By doing so, labor costs will decrease and productivity will increase. Furthermore, operations and procedures, applying material handling solutions, will streamline more efficiently and effectively. But not without its own challenges.
In order for effective automation and other material handling solutions to work, there must be an understanding of warehouse daily logistics and a need for detail and precision to be on the forefront. Performance with high standards is paramount. For it is only when the culmination of a solution and understanding of how the implementation will take effect, that streamlining processes makes a true impact on your warehouse distribution facility. And it is that impact that will launch your business to success.
Author: Heather Connors, Director of Marketing, Conveyor Handling Company
Are you looking to streamline your warehouse processes for more efficiency?