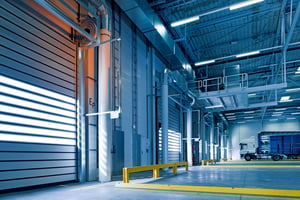 The importance of warehouse optimization cannot be understated. Sometimes, when looking to enhance warehouse operations, cost and/or location issues may come into play. With so many options and possibilities, that which can be both endless and limited at the same time, the entire process can be daunting. When those variables present as obstacles and you are left to work with your existing space, you have no choice but to utilize the entire footprint, both vertically and horizontally, to maximize peak performance and productivity.
How your facility runs within the existing four walls and what helps it to run are key metrics in overall productivity and the return on investment (ROI)…and ultimately its profits. How you align your material handling operations and processes internally will determine its success.
Optimization can significantly reduce costs when innovative technology and storage solutions are implemented and utilized properly. Additionally, when resources are appropriately and strategically allocated through automation solutions, the result is improved ergonomics, minimized downtime, and enhanced productivity.
Let's help guide you to a better understanding of why optimization is so important for your facility?
Process
Take a good look at your day-to-day processes. It's important to get a handle on how your daily operations flow and the procedures that move your material handling throughout. Review your inventory. Look at how product is stored and the current storage solutions you have in place. Is your storage optimized? Do you need more space for excess inventory? These elements too, can play an integral part in processes because however deep your inventory is (or would like it to be), and what product and how it is stored are important when assessing any optimization warehouse needs. Through the implementation of optimized solutions, a consistent and smooth product flow will ultimately help to improve turn-around times, enabling customer demands and expectations to be met and potentially exceeded.
Space
Vertical space is paramount—utilize it! It's not just the flat area that's in play, but look up and around… take a panoramic view of your facility. Vertical optimization is always a good choice. Evaluate the space within to see where and how you can best utilize its capacity. There are mezzanines, shelving, racking and AS/RS solutions at your disposal to help optimize existing warehouse space. Implementing these storage solutions can allow for more product SKUs to be added in the same footprint, allowing for more warehouse growth.
Space utilization is key to a fully optimized warehouse.
Organization
Who doesn't appreciate a well-organized area. Best practices would tell you that the more organized an area, the more efficient (and productive). Through organization and a cohesive material handling system structure, your warehouse will flourish. Properly utilizing the footprint available and 'organizing' it with the best suited material handling equipment and innovative technology solutions to maximize throughput processes, no space is ever wasted.
A well-organized (and optimized) facility puts you in the best possible position to improve productivity.
WCS
Every good orchestra has a conductor that manages them. Optimizing the management of your material handling equipment, systems and labor can be done seamlessly through a WCS (warehouse control system). Real-time data generated is important to optimizing your facility as it allows information to flow easily and coordinates all daily functions. Operational accuracy and efficiency is achieved, tying all elements (operational and procedural) of your warehouse facility together, and optimization is once again the star of the performance.
From the footprint within the walls to the controls (WCS), to the various automation and storage solutions and everything in between, optimization plays a vital role in all aspects of your warehouse facility, efficiently utilizing space and maximizing productivity for infinite results.
Author: Heather Connors, Director of Marketing, Conveyor Handling Company