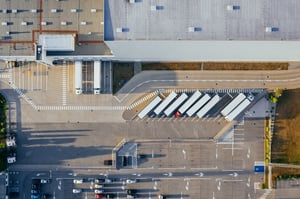 One of the most efficient ways to optimize the landscape of your warehouse is to find the right storage solution to improve the speed and accuracy of your order fulfillment.

Revamp your storage and picking process with a Vertical Lift Module (VLM). This high-tech solution is designed to optimize material handling and storage organization, resulting in significant time, cost and storage space savings, and a more efficient workflow. Don't let daily operational challenges such as limited storage space and low efficiency hold you back. The VLM's vertical ergonomic design maximizes storage capacity by utilizing over 60% of floor space while reducing the need for physical strain on employees by delivering materials at a worktable height. The technology used allows you to streamline and automate the inventory management process, helping to reduce the time and effort required to track, monitor, and report on your inventory levels.

It's important to understand the importance of throughput and accuracy. The VLM's automatic retrieval system increases productivity by eliminating the need for employees to walk up and down aisles, hence saving time and improving picking accuracy. Suitable for operations would be where there is high turnover of goods and fast retrieval times. Common applications for VLMs include industrial parts and component storage, retail order fulfillment, and manufacturing. They are characterized by their fast, efficient, and automated movement which helps maximize inventory space and throughput performance. Their modular design also make them relatively easy to integrate into existing warehouse systems, allowing them to scale up operations quickly and efficiently.

Benefits of a VLM include condensing storage space requirements by up to 60%, reducing inventory retrieval time, securing all material from dust and unauthorized access, and delivering items at a perfect ergonomic height, reducing the likelihood of job-related injuries.
Increased Space Saving

– Vertical lift modules provide an efficient storage solution for any space. They maximize the vertical space and use a smaller footprint than traditional shelving units, allowing for more usable work space.

Improved Access & Accurate Retrieval

– The mechanized models ensure that the right parts are retrieved quickly with a few fingertip presses. This accuracy helps improves customer service and reduces order processing.

Reduced Errors

– When you have multiple SKUs located in a single space, it is easy to misplace, damage, or supply the wrong part. But with a vertical lift module, you don't have to worry about a wrong part being dispensed.

Increased Speed

– Orders can be filled faster with a VLM. This is due to the mechanized system which quickly moves along the single pick aisle, helping to reduce order processing time.

Increased Safety

– Employees no longer have to climb and strain for items, reducing the risk of injury. Additionally, the system eliminates direct contact with heavy and dangerous parts, helping to improve safety in the workplace.
Does your warehouse or distribution center face any operational challenges? Find out if VLMs are the right solution for you.
Author: Heather Connors, Director of Marketing, Conveyor Handling Company