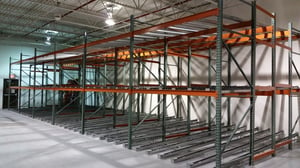 Off the Rack—how does your warehouse store pallets and products? Do you find yourself weaving in and out of your facility's floors as an over-abundance of product sits idly along your path? How easily can you access that product? Today's racking systems are accessible and durable storage solutions, allowing for easy implementation in your warehouse.
Determining the best shelving and storage solution for your material handling, requires an understanding of racking solutions available and how each contributes to a warehouse.
Product movement and SKU count are key components in evaluating your needs. Additionally, there are some fundamental questions you should be able to answer in order to find the best racking solutions for those needs. What product are you storing and how? Full or partial pallets? Wooden skids? Product dimensions (H x W x L)?
There are several space saving rack solutions in the material handling industry to consider—Pallet Rack, Drive-In/Drive Thru, Carton Flow, Pallet Flow, Push Back and Cantilever. Each solution has its own applications, with Cantilever Rack in a league all of its own, typically used to store longer, bulkier items such as carpet, pipes, or furniture.
The most commonly used rack is the conventional Selective Pallet Rack with its most modular and versatile design. This rack is the most efficient use of space, both transforming and maximizing your warehouse footprint.
Drive-in/Drive-Thru Rack is one of the highest density storage solutions available, utilizing the last-in, first-out principle, with the aid of fork lift trucks, and providing up to 75% more storage than selective pallet rack.
Carton and Pallet Flow Rack, designed for cartons and pallets respectively, also provides high density storage, but utilizes the first-in, first out principle. These racking systems move along gravity rollers/wheels and are loaded from the back. While Push Back Rack offers a versatile system, storing anywhere from 2-6 pallets deep at any given time and designed for multi-product storage.
Ultimately, the ideal racking storage system should answer the question, how do you store your products. And implementing a racking system in your warehouse facility will help maximize its storage capacity, improving labor efficiency and productivity.
Author: Heather Connors, Director of Marketing, Conveyor Handling Company
Contact CHC to learn more!